Travel Illustration Watercolors and Sketches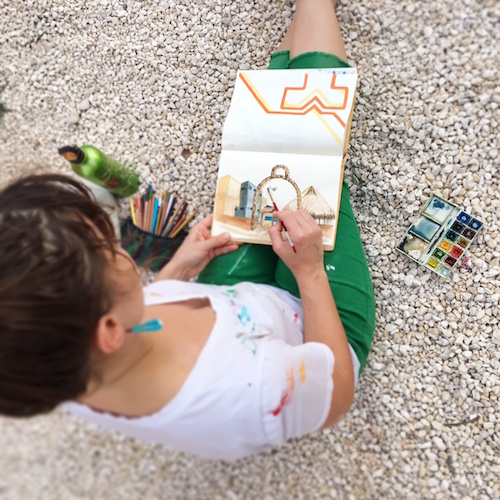 Traveling is the rare time when I paint purely for pleasure. Perhaps I am lost. Perhaps I am self-conscious in a foreign land. Perhaps I am trading artwork for a place to sleep. I love what I do for work, but there is a vast difference between intentional work for a client, and meandering sketches. These are my wanders. They are filled with my buoyancy, anticipation, and curiosity. They are also how I meet strangers, which almost always turns into something wondrous.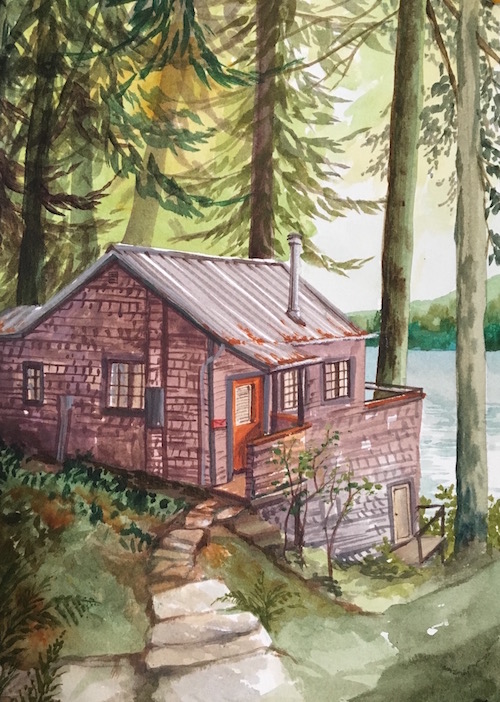 A craigslist miracle cottage, with lake views, downpours of cedar seeds, and spiders galore. When I saw this housing ad I was seven months pregnant and we were living in my grandparent's RV. We moved in just a few weeks before Sunny came popping out a month early, surprising the heck out of us!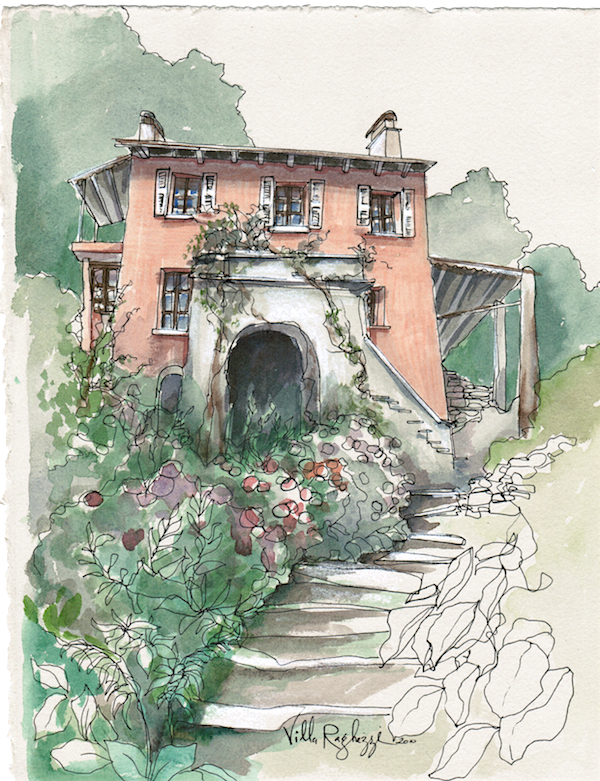 Two wondrous souls live here, way up a hillside reached only by foot in a valley of Northern Italy. They sleep out on that deck off to the left under the snow falls, and blast opera music in the evenings that spills out through all of the open windows. They also rebuild ancient villages: http://www.canovacanova.com/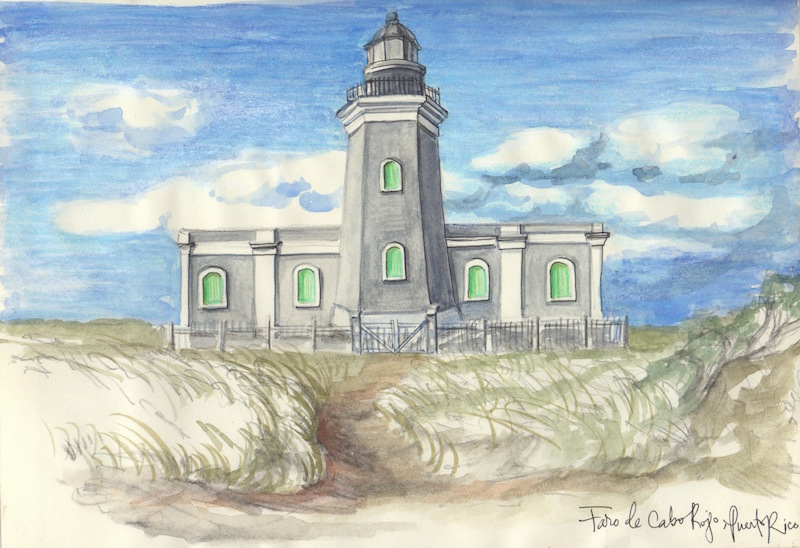 A lighthouse in southwest Puerto Rico. Set upon an impressively high cliff, with craggy sides that plunge down to frothy turquoise waters. The wind was hot and dry that evening, and kept tugging at my hair to eclipse my view as I drew, and pulling the page up from under my palms as if it were alive and wriggling.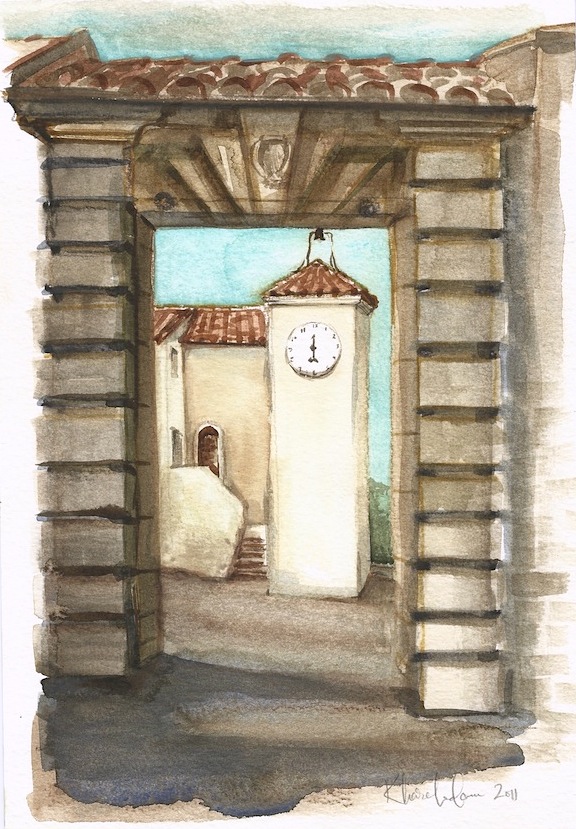 A creamy-plastered village where I straddled a stone wall and achieve a good hearty numb bum from sitting long enough to draw the ancient archway. It was a day off from the nearby farm where I was volunteering (WWOOF) for a couple of weeks in autumn of 2011 in my single and wanderlusty late twenties.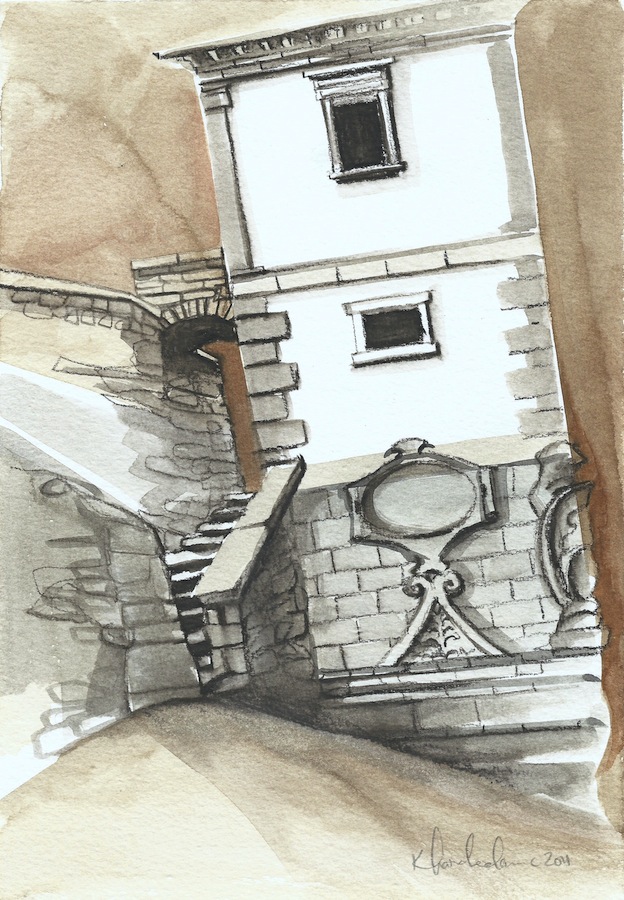 A preposterous woodland park where gigantic boulders have been carved into mermaids, whales, and leaning buildings like this one. Neptunes and elephants hidden amongst the trees. I was enamored. I was not on drugs. One of the most magical places I've ever encountered. You should encounter it, too.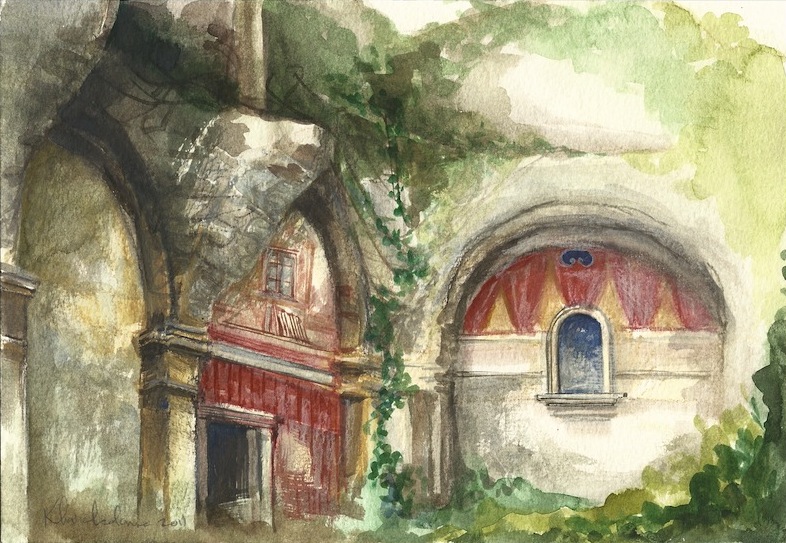 Nearby to one of the farms where I was volunteering was a petite, intact cemetery. Across from it was an abandoned convent. The roof had caved in and vines overgrowing the walls. The floor was lumped with hillocks of rubble and snakes, and it seemed not a soul had been there for decades. Some of the walls were still intact with fading frescoes of rich red painting and faux draperies. It smelled like a story.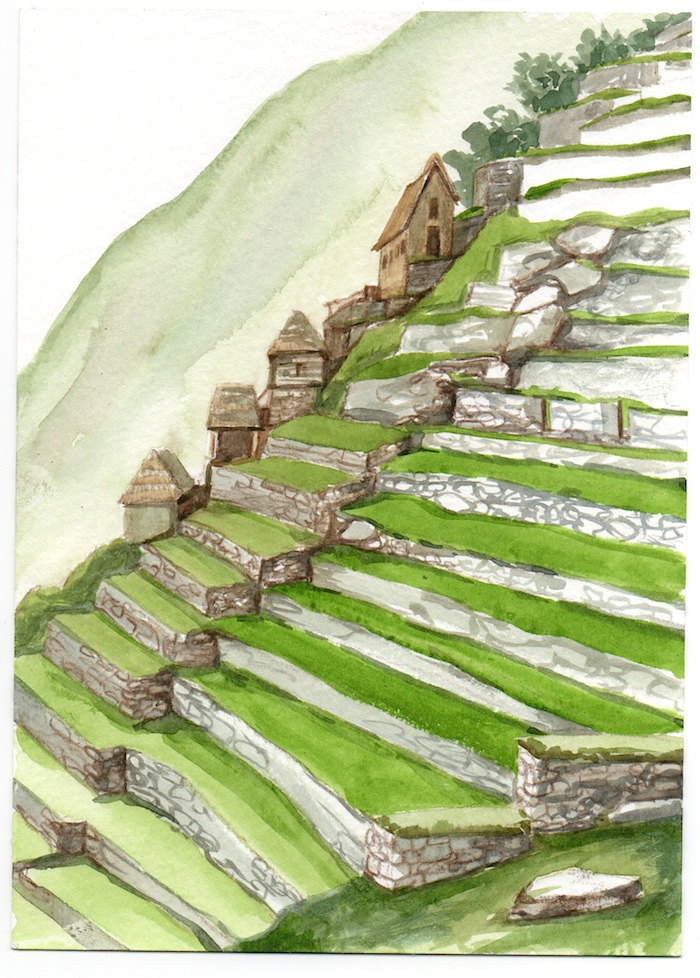 Oh! So green! While I painted a leathery black centipede crawled over my thigh. When I yelped and pointed him out to the guard who stood possessively overseeing my progress, he exclaimed in frantic Spanish, picked it up with a stick, and flung it far off into the rocks. Apparently the devil was quite poisonous. The day before my body had purged itself dry after some exciting new bacteria picked up in the Cusco market. I was light-headed, light-bodied and light-souled, and that afternoon was a hazy spiritual wonderland.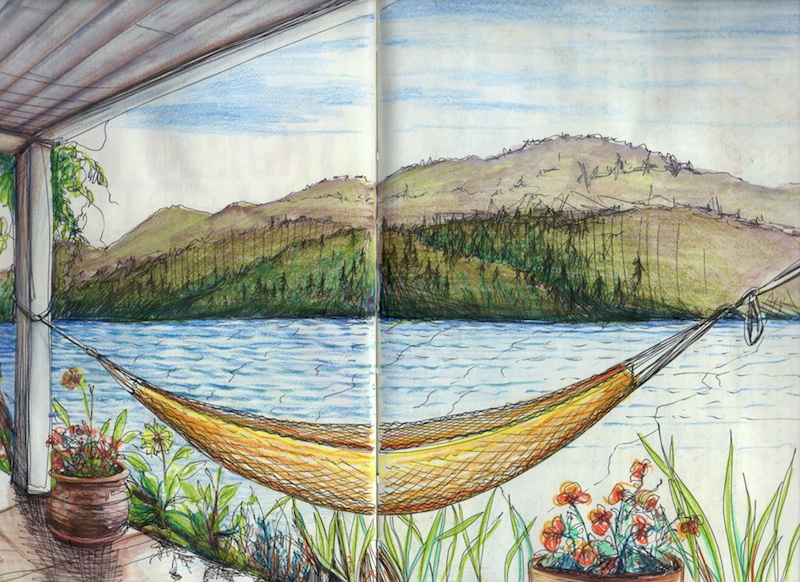 A haven in Puget Sound where a pod of Orcas quite literally swam by one morning while I sipped coffee at this home of friends after sleeping out under the stars in the salty wind.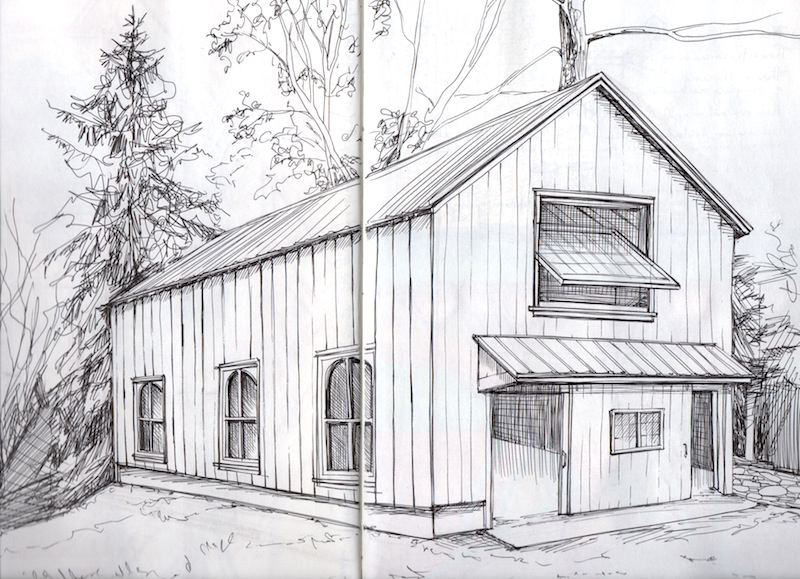 Upstate NY, where a cluster of unlikely architects, coffee-drinkers, hippies, yuppies and campers gathered for one glorious 4th of July weekend. Though it was cold, rainy and soaked us through to shivering, our spirits were high and we plunged into the creek nonetheless.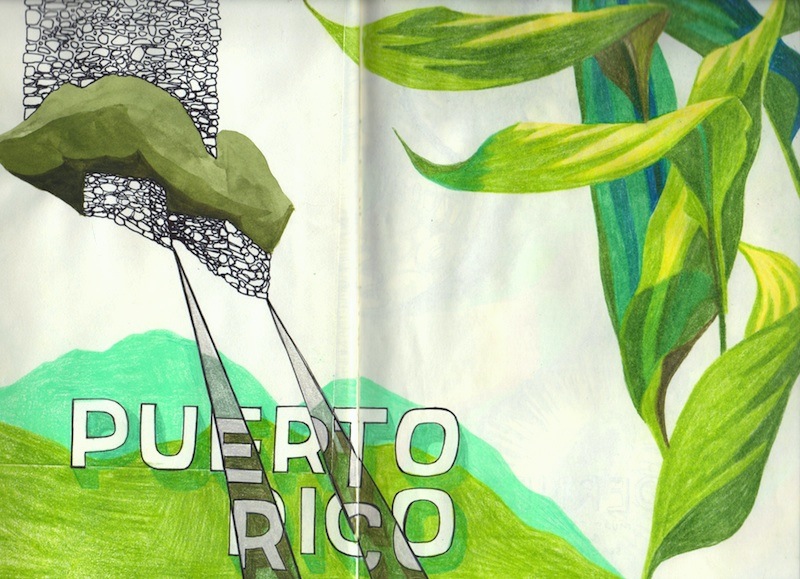 My first trip to a tropical environment. Lushly delicious. Swimming under waterfalls. That kind of dream-stuff.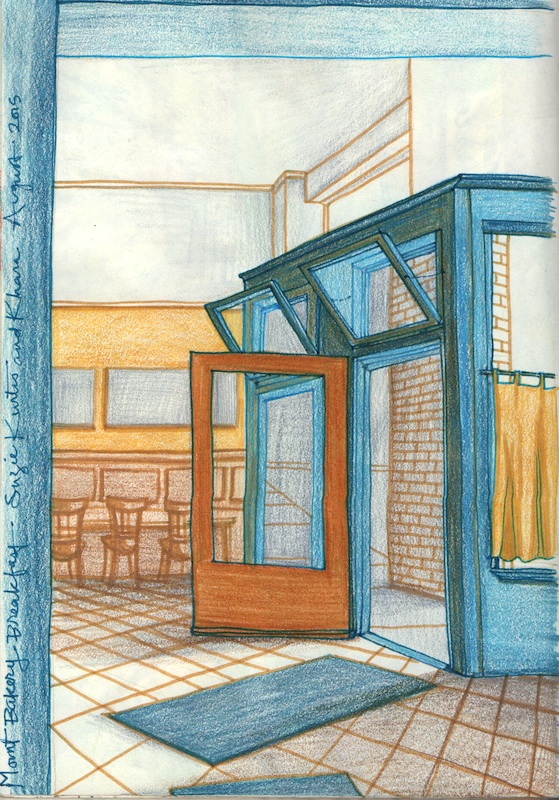 Favorite breakfast cafe in Bellingham, WA. The crepe with bechamel, scrambled eggs, swiss and caramelized onions...ohhhh! Rumble my tummy and be still my heart!
Where you dance in the rain, dance in your socks, dance in costume, dance in alcohol, dance in shadows and fall asleep under steamy skies.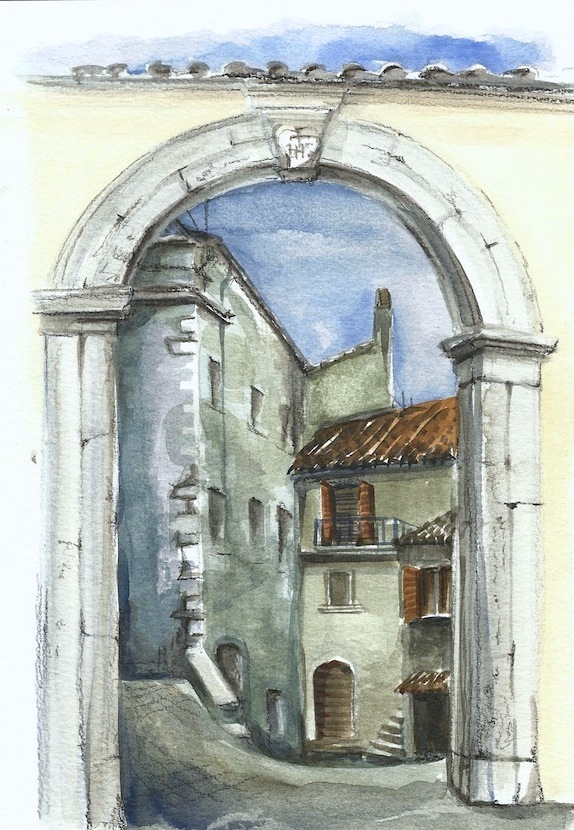 To be completely honest I cannot remember at all which village this was. But isn't she perty??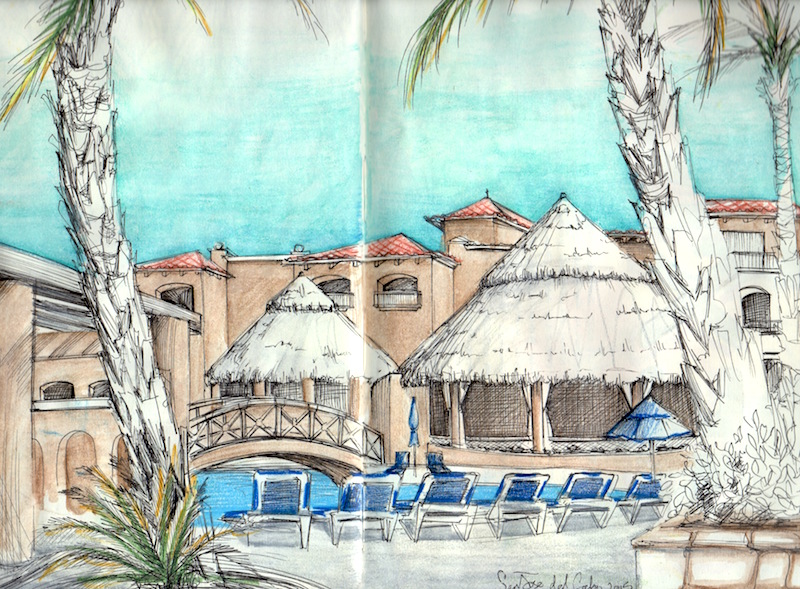 Our first full-family reunion, in which I arrived dehydrated and in tears with a sliced off thumb, Grandpa danced beneath the stilt walker's legs, Uncle Tom lost his shorts, and we all had too many banana sexy's. Typical, no?